With 47 million people worldwide afflicted with dementia, almost everyone knows a friend or family member struggling. June is Alzheimer's and Brain Awareness Month. It is a whole month dedicated to increasing public awareness of Alzheimer's disease, providing access to available support and information resources, and showing how anyone can get involved in the fight for a cure.
What is Alzheimer's disease?
Spreading awareness about Alzheimer's disease starts with gaining knowledge about what the condition is. As we age, we often feel a decline in our ability to remember short-term things. There is a difference between this and the onset of Alzheimer's. A decreased ability to take in and retain new information, impaired judgment, difficulty speaking, and marked personality changes are some of the indicators of onset Alzheimer's. Take a moment to read our blog – Alzheimer's Disease – Facts, Symptoms, and Care – so you are in the know.
How Can You Increase Awareness?
The Alzheimer's Association is working tirelessly to get the word out in June and to spread awareness. They have set forth several ways for folks to get involved.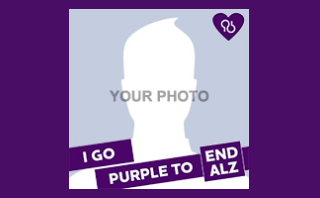 Go Purple: Purple is the official color of the Alzheimer's movement. Turn your Facebook profile picture purple this month and get noticed.
Wear Purple: Break out your purple apparel and wear it during the month of June. Don't have any purple clothes? Shop the Alzheimer's Association and save 20% off during June. When you wear your purple gear, be sure to tell everyone why.
Post, Share & Tag: Social media is a powerful thing. During June, start a social conversation using the hashtag #ENDALZ or #EndAlzheimers. Share your story. Tell the world how you've been affected by this disease. Follow @alzassociation to learn more ways to get involved.
The more awareness that is spread about Alzheimer's disease, the more potential research into a cure is likely. With so many affected today, this disease is expected to reach much higher numbers in years to come. By the year 2050, over 10 million are predicted to have Alzheimer's. The race for relief or better yet a cure is on. Let's all help spread the word during Alzheimer's and Brain Awareness month. We are all connected, and all want to help those suffering. Together let's #ENDALZ.