Group Health Insurance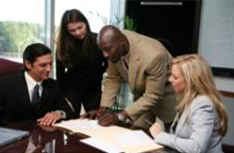 Congratulations! Your company is growing and headed for success. This means you have taken on a lot of employees that all have diverse needs. When it is time to select group health insurance, how will you know you have found the right plan? Association Insurance Services Inc. is here to help guarantee your success.
We are locally owned and operated in Olathe, KS. This means we can address your concerns individually with a full understanding of your needs. We are licensed in nearly every state, and we are certified to advocate for your employees and your company.
You will discover that our group health insurance services are designed around the client—not the other way around. Many other insurance companies will force you to conform to the plan they select. We listen to your needs and accommodate your budget to find the right fit for you.
Types of Group Health Insurance AIS Provides
Groups from 2-100+
Life Insurance
Dental 
Vision
Short Term Disability
Long Term Disability 
Voluntary Programs
Giving your employees significant benefits will allow your company to attract more qualified and professional workers. They will be more invested in the work they perform for you because you have taken care of them and their families. Selecting the right group health insurance plan has far-reaching benefits, so you do not want to take any shortcuts.
Types of Group Health Insurance Plans from AIS
Partially Self – Funded
Fully Funded – Customized for Group
Association Insurance Services Inc. has worked with companies for the last 25 years, and we are committed to providing professional expertise. We continue to stay updated on the best plans, and share our knowledge with our clients. Your future employees are going to look at salary and benefits before they make a decision. We can help you select the plan they cannot refuse!
Once you have selected the best group health insurance plan, we are ready to provide human resources and risk reduction services. We will assess the risk and human capital concerns to ensure that you are proactive enough to prevent potential problems. Get in touch with us today to get started!
Give AIS, Inc. a call today for any questions or concerns you may have about health care and your benefits. To receive information on how to obtain an original customized solution contact us today (800) 523-8351.